If you've stopped exercising due to isolation, now it's time to think twice whether your choice is the right one. The king of bodybuilding thinks there's nothing better than adding some more sports to your life when you feel separated from the rest of the world.
Some insiders say that Ronnie still doesn't feel really strong after his latest operation. After a dozen surgeries, he feels discomfort even with the lightest activity. That's quite a normal thing for a person surviving the severe disease. However, all these pains are never reasons to miss a workout for Coleman.
The former Olympia champion and the real G.O.A.T. has to be especially careful now – during a recovery period, Coleman's organism may be seriously exhausted and vulnerable in front of a virus. No traveling, no walks, no family meetings, – that may be a hard challenge for a zinger like Ronnie.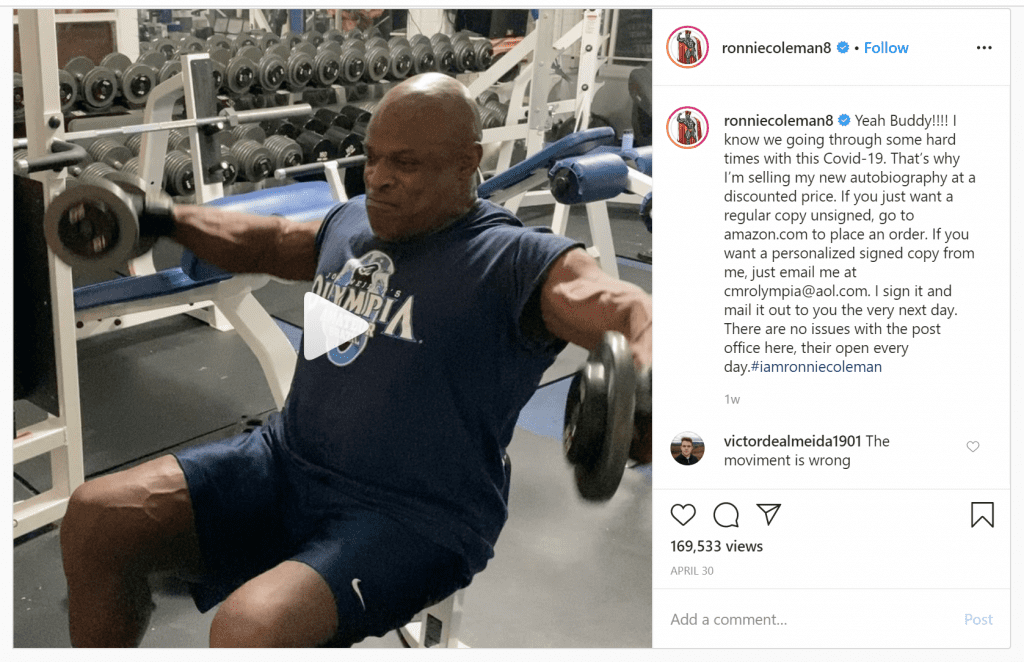 However, there's a universal remedy Coleman uses for all types of troubles – he is working out! The sportsman posted several videos, showing his training progress. Some of his moves are still looking hobbling. Though, it's difficult not to see – the hero is coming back!
Toned Body Needs Toned Brain
Physical training is not the only Ronnie's recommendation for the time. The sportsman decided to support his fans, preparing a nice surprise. He made a huge discount for his autobiographical books until the end of the epidemic and quarantine. Moreover, Coleman promised to send a hand-signed book to everyone who emails him to make a purchase.
While most people use the 'unplanned vocation' laying on the sofa, Coleman keeps being active and sends signed books daily. He will keep going this way until the nearest post-office is still opened.
The sportsman's fans wonder whether there's anything that can put The Olympia King down. "Now I'm sure, this man can survive anything!", – commented one the sportsman's fans. "You could collapse a building on this man and he'd walk out of it saying "man that was light". Legend.", – wrote another.