Phil Heath has already become Mr. Olympia seven times. The former champion has a great chance of becoming the next G.O.A.T. ("greatest of all time") in bodybuilding. He may once stand next to Ronnie Coleman and Arnold Schwarzenegger. Phil is one of the most popular, yet one of the most interesting characters in the sport. We've prepared some rare facts about one of the living bodybuilding legends for you.
Phil Heath Stats
| | |
| --- | --- |
| Full Name | Phillip Jerrod Heath |
| Date of birth | 18 December 1979 |
| Nationality | American |
| Phil Heath Wife | Shurie Heath |
| Phil Heath Net Worth | $8 million |
| Height | 5 ft 9 in (175 cm) |
| Contest Weight | 240 lb (109 kg) |
| Off-season Weight | 275 lb (125 kg) |
| Professional Debut | 2006 |
| Olympia wins | 2011-2017 |
| | |
Phil Heath at Mr. Olympia
First Steps

"Hard work beats talent all day, but talented people with great work ethic become unstoppable." – Phil Heath

Phil said that building the body of a superhuman had always been his dream. The young sportsman spent hours in a gym, even so, he always felt that was not enough. Working harder, exercising more – that was the daily aim of Phil. This is the only secret component of his success.

He still remembers his first competition in 2003, – a bright debut and a bright victory. The sportsman took the first prize. The judges of the contest called him "The Gift" for his great physique. Phil needed only two more years to win his pro card. Soon after he understood that dreams about the Olympia stage could come true.

Heath said he was preparing to compete at Olympia in 2007. But his own fears and perfectionism forced him to postpone his Olympia debut for a year. Phil's plan worked. 12 more months of hard work turned him into one of the main candidates for the first place. Phil took third place. No debutant has been able to show better results since Flex Wheeler in 1993.

7 Years At The Top

"To keep winning, I have to constantly outdo myself."– Phil Heath.

Some sportsmen dedicate their lives to winning Olympia. Phil needed less than ten years in the sport to get to the bodybuilding throne. The sportsman won Olympia in 2011 and managed to repeat his success 6 more times.

Phil said he had no intention of stopping. He can still repeat the great success of Lee Haney and Ronnie Coleman, who won Olympia 8 times in a lifetime. Yet, Heath's reign ended in 2018 when Shawn Rhoden took the main prize.

Out of Olympia

It wasn't easy to be second to Phil. He was still one of the best bodybuilders in the world. Yet, Heath was ready to end his career and appeared too embarrassed and depressed. The sportsman was not able to hide his disappointment and anger. But he managed to come back to training a few days after the contest was over.

"I'll be back!" – promised Phil, reassuring his fans that the champion's title will return to its ex-owner. Still, Heath is not in a hurry to be back at Olympia. Whether he does this again or not, he's already a legend!
Phil Heath Best Photos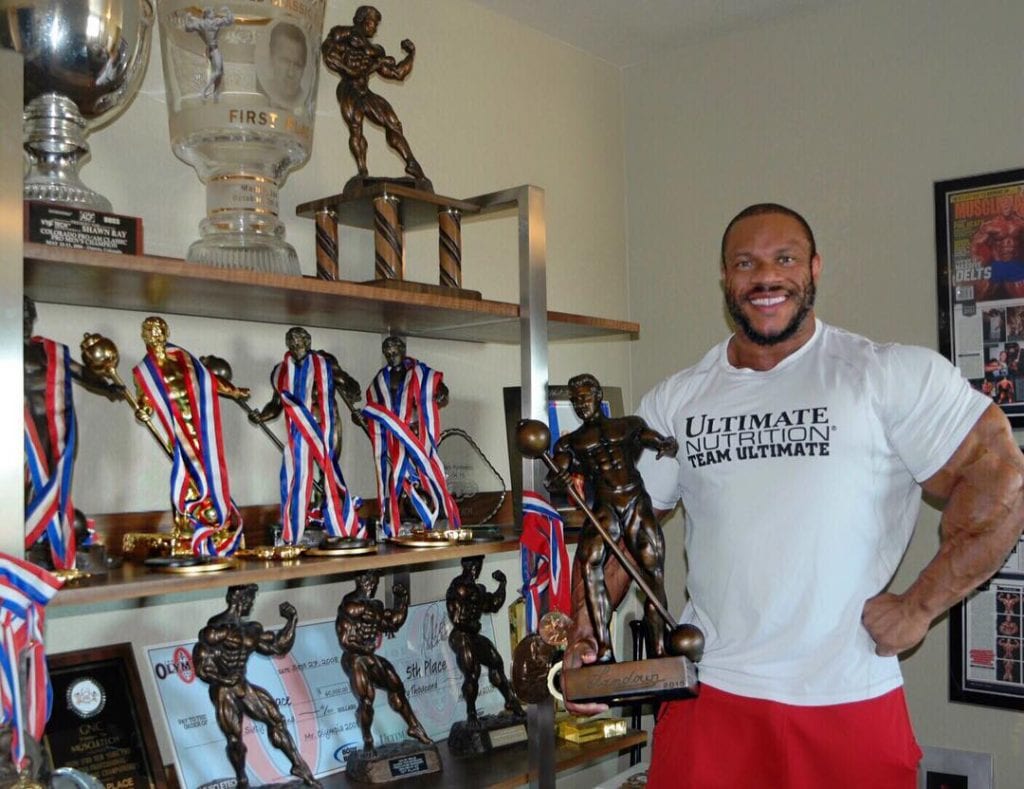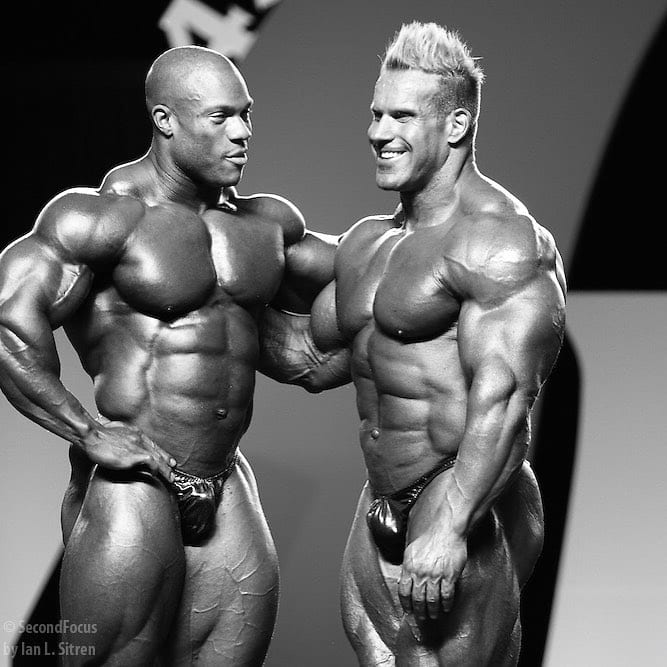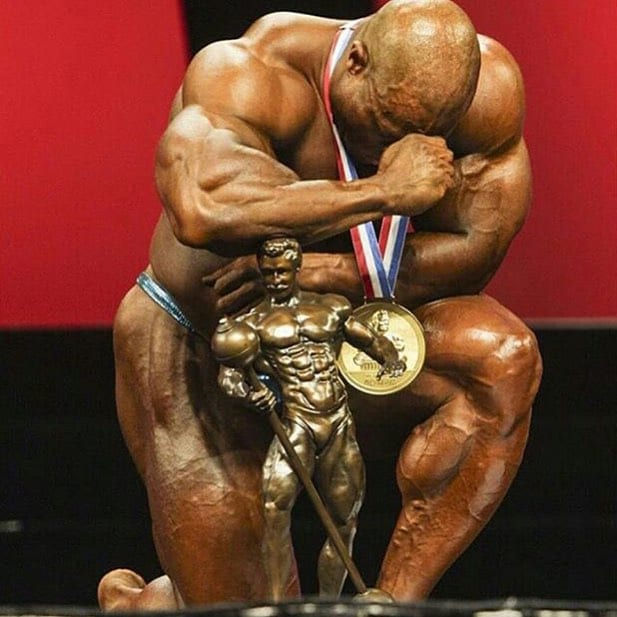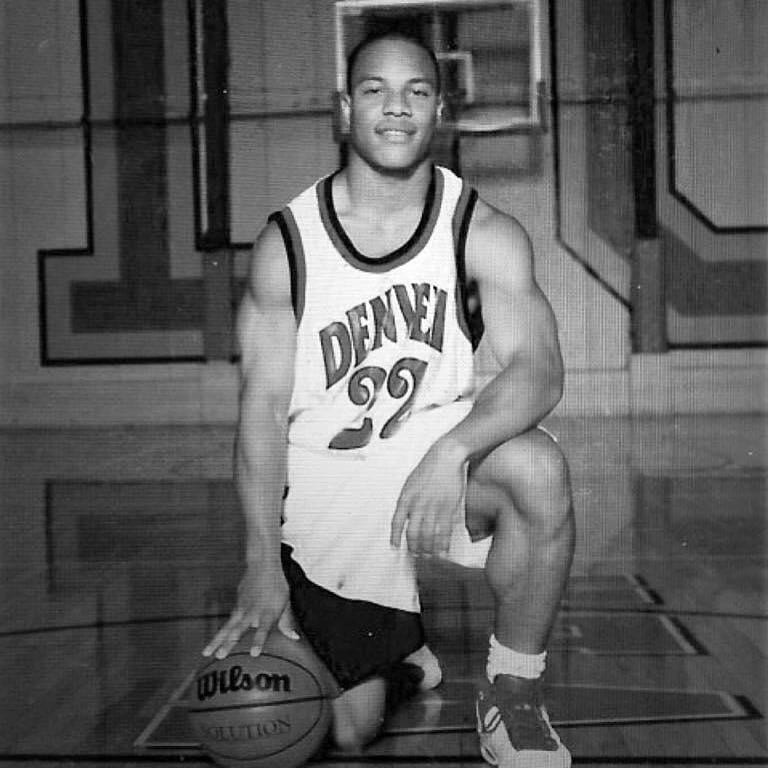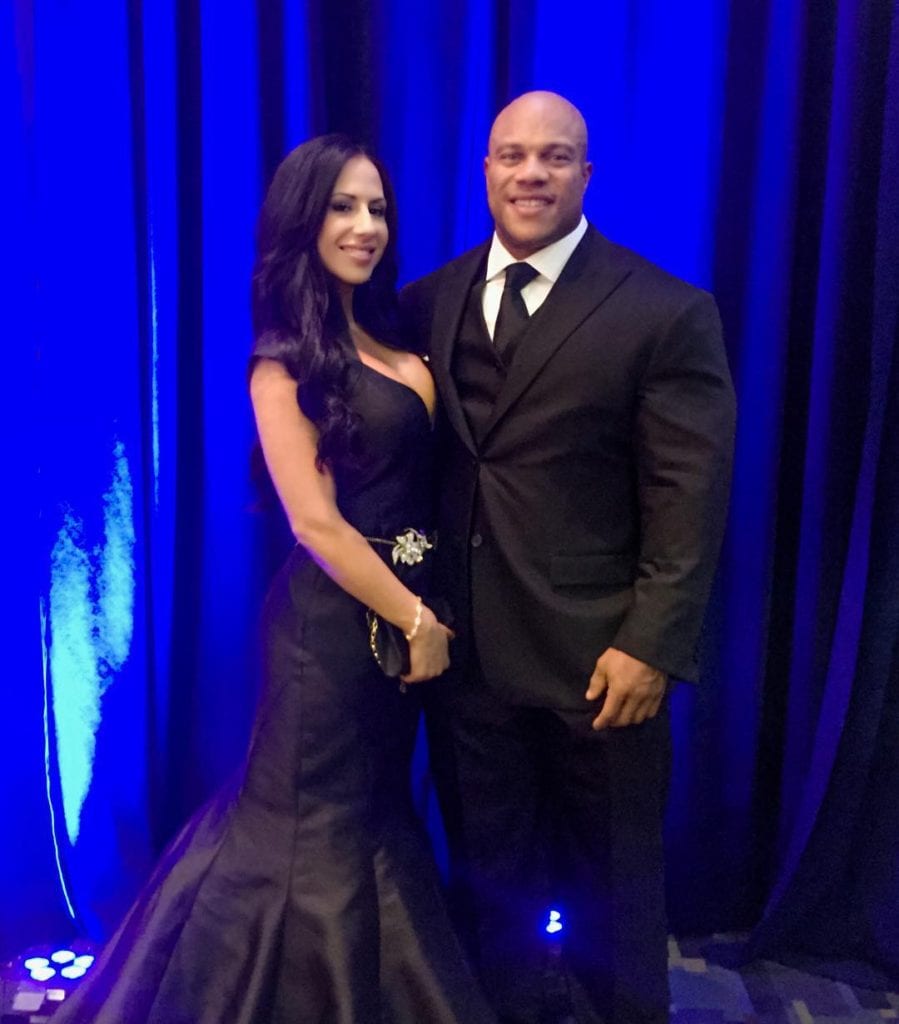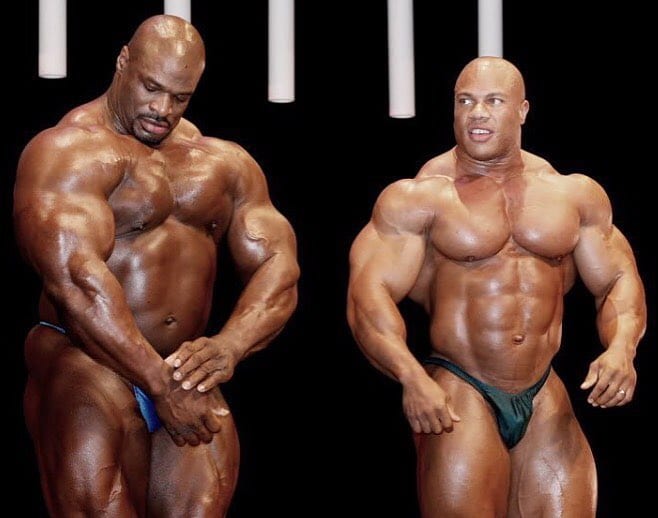 Phil Heath Workout
Phil is not a fan of exotic exercises or new bodybuilding techniques. He believes that the classic gym routine works well enough. The former Mr.Olympia thinks that it's very important to find out what works best for you. Well-known moves always work – the task is to construct a routine that is excellent for your body. A different person needs a different number of sets, exercises, weights, training intensity.
Discipline goes first
Looking for an individual solution doesn't always mean following your moods. Phil believes that discipline is key to everything. He's got a training schedule he's been following for years. Four days a week are for lifting weights and one day is for cardio. Each training session lasts at least two hours. Phil never cuts his workouts except for serious health issues.
If you want to be better – learn from the best
Phil says that his motivators are Arnold Schwarzenegger and Ronnie Coleman. They are both the champions in bodybuilding. He learns much from them and practices the same training principles.
Weekly Goals
Monday is leg day for Phil. Starting the week from the hardest part is a good tradition, he believes. Have you noticed how great his legs look? Phil says that the secret is the diversity of exercises. You can never get excellent legs with only a couple of moves. Phil performs at least 10 exercises. Monday's routine includes squats, leg presses, stiff-legged deadlifts, and calf raises.
Tuesday is a day to build an outstanding chest and triceps. Heath says he uses at least 8 exercises for triceps and chest training.
Wednesday is the time to rest. No clubs or exhausting activities. Sound rest is also a part of bodybuilding preparation. Phil needs lots of healthy sleep, vitamin-containing meals, and some relaxation.
Thursday is for Phil's back and biceps routine. Phil focuses on 10 different exercises and an increased number of repetitions. He plans up to 12 repetitions for each set.
Friday is the time to hit shoulders and traps. Phil believes that bulking up shoulder muscles may change the game. He thinks a perfect shoulder plan must include at least 6 exercises.
Saturday is for cardio. The 7-times Mr. Olympia thinks cardio is a must for anyone who wants to stay lean and shredded. Yet, he believes any cardio works well for a bodybuilder. Running, aerobics, or cycling – he usually chooses anything he likes to do at the moment.

Sunday is the best time for a day-off. This day is a great chance to restore, have some fun, and prepare for hard work the next day.
Phil Heath Diet
Usually, Phil consumes around 5000 calories a day. He gets around 400 grams of protein and 600 grams of carbohydrates. The sportsman has 7 meals a day. He eats lots of beef, chicken, egg whites, brown rice, oatmeal, and steamed vegetables.
Phil also takes supplements to make his diet fuller. Multivitamins, creatine, and BCAA's are always part of his nutrition. Unlike many of his colleagues, Heath keeps his diet strict even during the offseason. It helps him to stay in a near-competing weight most of the time.