I've had a few requests for this from other female users who have been unable to get the answers they require.
Normally if a woman is to ask about a Testosterone deca cycle she will be told "NO, NO, NO, cardio, cardio, cardio!" and other silly things like this. Rather than finding out what the woman's experience is and how big she wishes to get.
For example, a lot of figure models use testosterone. But if you are wanting to do Bodybuilding and be a big strong looking female then testosterone and deca are needed.
If you are reading this article I'm going to assume you already have a nice amount of muscle mass, at a reasonably decent body fat. I'd recommend personally doing a full cut and getting down as low as you can before trying this. The rewards given will be much greater, as testosterone works much better at a lower body fat, as does deca.
I'd also recommend you have at least a few good cycles under your belt. Hopefully you are or have used Testosterone before in the past.
Npp, Anavar, should always be tried before testosterone is something else worth noting.
A good general rule of thumb for someone who is using the two together for a first time would be.
If you are running Test at 250, I'd do the deca the same 250. For 12-16 weeks.
The second time, I'd raise the testosterone up to 400. But keep the deca the same.
Finally, I'd raise the test up to 500 and keep at 250 if you still needed more size and are enjoying the results.
Next you'd begin to raise deca to the 400mg every 5 days, so it'd be
Testosterone 500mg every 5 days, and deca 400mg every 5 days. This tends to give the best results for a woman. I know some who go higher, but a lot get a huge and big muscular look from this and find themselves happy without getting too many masculine side effects.
Also I can't stress enough the importance of eating the CORRECT foods during this time. Using Steroids is not a time to be SLOPPY with that damn diet, keep it going. Your diet needs to be immaculate to get the results you are wanting, Ie muscle mass, fat loss and no dramatic fat gain. It isn't a time to eat ice cream and cake all day long.
Finally a good routine is needed.
5/3/1 for bodybuilding is good, or german volume training by Charles Poliquin is another I'd recommend. Especially his advanced version. Again just a few routines I've thrown out there to help you out.
Until next time thanks for reading and be sure to join in comments below.
What is the best way to cut fat while building muscle with legal steroids?
Right now it's considered to be CrazyBulk Cutting Stack, here's why:
It speeds up your metabolism, increases blood flow, and helps in burning your fat. As a result, you get a ripped and super-shredded body. Fat Burning Stack is able to mimic the effects of anabolic steroids. Yet organic components used for Crazy Bulk products are safe for your body.
The stack includes 4 effective supplements that help to reduce your body fat, promote muscle growth, and enhance your performance. Highly-effective components are blended in a way to bring the best and fastest possible results.
Benefits include:
Natural Steroids with proven effectiveness;
Organic components are safe for your health;
Contain a lot of useful vitamins and minerals;
Finishing cycle doesn't lead to rollback of results;
No need for post cycle therapy;
Free worldwide delivery;
And absolutely NO Needles or Prescriptions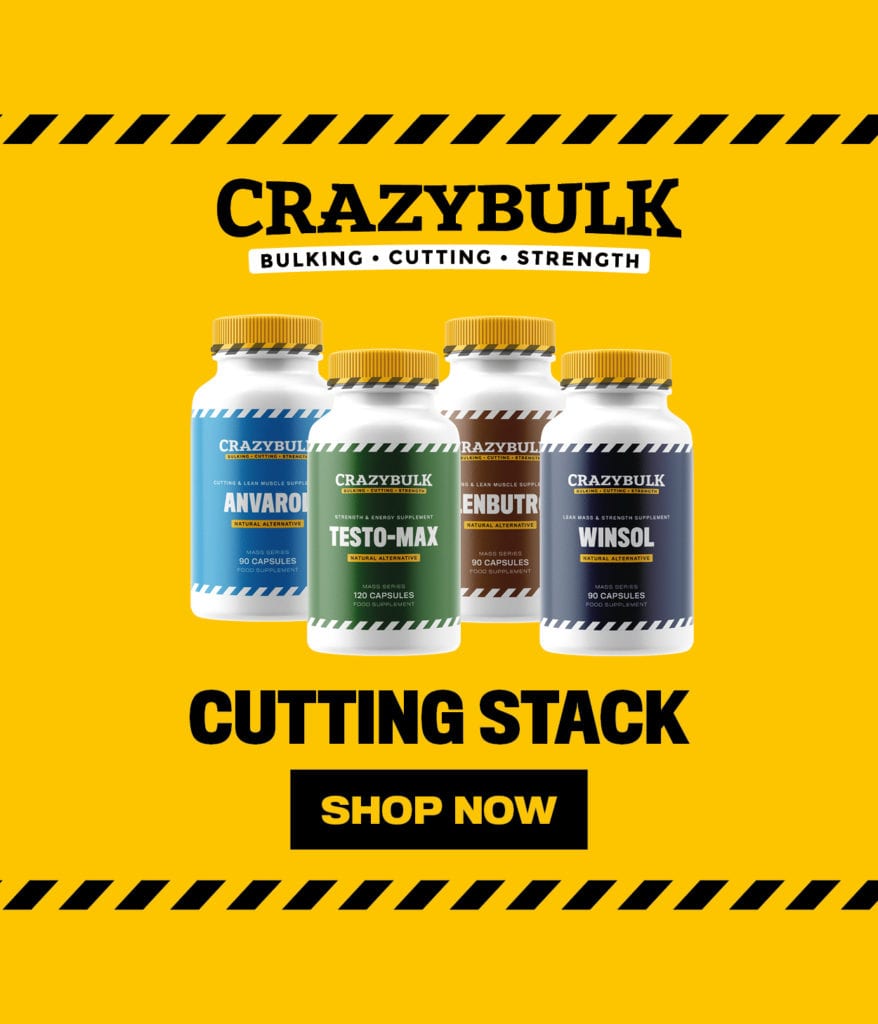 BEST FOR:
• Shredding Body Fat
• Building Lean Muscle Mass
• Increasing Energy Levels
• Reducing Muscle Soreness
• Boosting Free Testosterone
Get Yours at: visit Cutting Stack official website