Shawn Rhoden (source) is a new symbol of strong will and determination. The sportsman who made the decision to get the Olympia crown or to leave bodybuilding forever. The man who dethroned Phil Heath after seven years of victories and managed to become number one a year after getting fifth place. Let's have a closer look at the biography of one of the most interesting, yet one of the most controversial bodybuilders ever!
Full Name: Shawn Rhoden
Born: 2 April 1975
Nationality: USA
Marital Status: divorced
Worth: $2m
Height: 1.78m (5.10ft)
Contest Weight: 109kg (240lb)
Off-season Weight: 118kg (260lb)
Professional Debut: 1992
Olympia wins: 2018
Shawn's success in sports is not a surprise. Despite the uneasy life-situations his childhood was often associated with, Shaw was a sporty kid. Everyone saw in him a talented soccer player, yet he chose another way. Inspired by the insane physique of  Yohnnie Shambourger – former Mr. Universe, Rhoden started his own way to Olympia.

Years later, Shawn will call Yohnnie his 'inspiration' and a man whose recommendation helped most. Unfortunately, his bright and promising amateur career was repeatedly interrupted by alcohol problems and depression. Yet the sportsman managed to get his pro card in 2010 and made a firm decision to follow his biggest dream – to become number one in bodybuilding.

His Olympia debut in 2011 brought Rhoden the desired experience and 11th place (source). The following year the sportsman managed to enter the list of top-five best Olympia bodybuilders and gain world fame. In 2017 Shawn took 5th place and faced a lot of criticism. 'To win next year or to go forever!' – his new motto led him to a head-blowing success! In 2018 Rhoden held the main Olympia trophy.

Unfortunately, the bright career of Shawn Rhoden is under a thread. Shawn was banned from competing due to rape allegations. While the primary IFBB's and Olympia management's decision was a lifetime ban, now there's a chance to see the sportsman on the stage again if the court decides he's innocent.

Shawn was married to Michelle Rhoden – a successful beautician and business owner. Despite having a 5-year-old daughter and an image of a happy couple, Shawn and Michelle divorced soon after the rape allegation. The sportsman proffered not to comment on the situation.
Accomplishments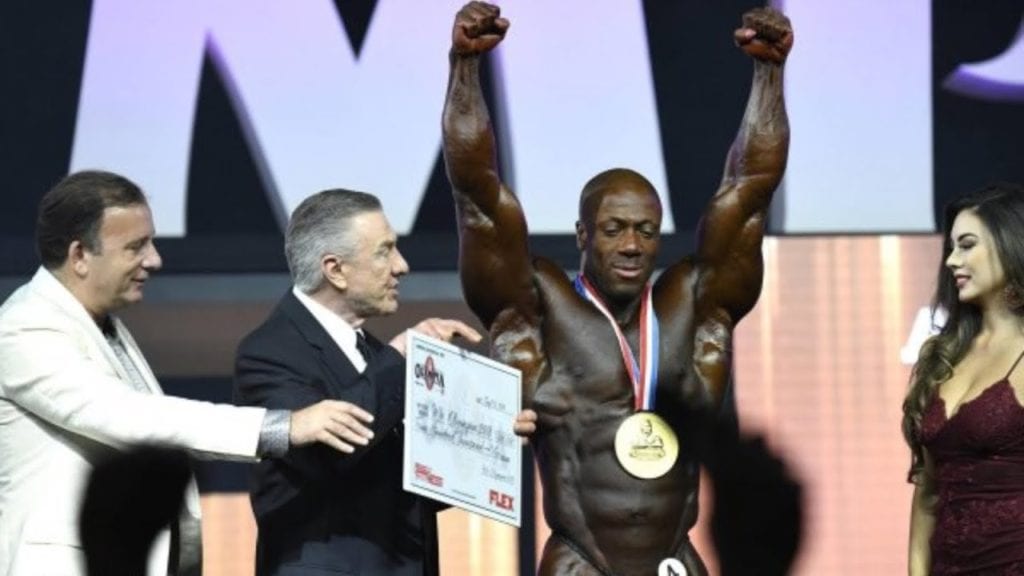 Contrary to the fact that Shawn Rhoden is associated with the title of Mister Olympia 2018, the bodybuilder hit the podium in many contests. Flexatron has won five amateur and twenty-six professional titles.
Amateur Competition History
1999 – NPC (National Physique Committee) Team Universe Championship (3rd Place)
2000 – NPC Team Universe Championship (4th Place)
2001 – NPC Team Universe Championship (2nd Place)
2009 – NPC Team Universe Championship (1st Place)
2009 – IFBB North American Championships (1st Place)
Professional Competition History
2010 – IFBB Dallas Europa Super Show (6th Place)
2011 – IFBB Dallas Europa Super Show (3rd Place)
2011 – Mr. Olympia (11th Place)
2012 – IFBB (International Federation of Bodybuilding and Fitness) Flex Pro (4th Place)
2012 – IFBB Arnold Classic (8th Place)
2012 – NPC Dexter Jackson Classic (No Place)
2012 – IFBB PBW Tampa PRO (1st Place)
2010 – IFBB Dallas Europa Super Show (1st Place)
2012 – Mr. Olympia (3rd Place)
2012 – IFBB Arnold Classic Europe (1st Place)
2012 – IFBB British Grand Prix (1st Place)
2012 – IFBB EVLs Prague PRO (2nd Place)
2013 – Mr. Olympia 2013 (4th Place)
2013 – IFBB Arnold Classic Europe (4th Place)
2014 – IFBB Arnold Classic  (2nd Place)
2014 – IFBB Australian PRO (1st Place)
2014 – Mr. Olympia (3rd Place)
2014 – IFBB Arnold Classic Europe (2nd Place)
2014 – Dubai PRO (2nd Place)
2014 – IFBB EVLs Prague PRO (3rd Place)
2014 – IFBB San Marino PRO (1st Place)
2015 – Mr. Olympia (3rd Place)
2015 – IFBB EVLs Prague PRO (3rd Place)
2016 – Kuwait PRO Men's Bodybuilding (3rd Place)
2016 – Mr. Olympia (2nd Place)
2017 – Mr. Olympia (5th Place)
2018 – Mr. Olympia (1st Place)
Shawn Rhoden at Mr. Olympia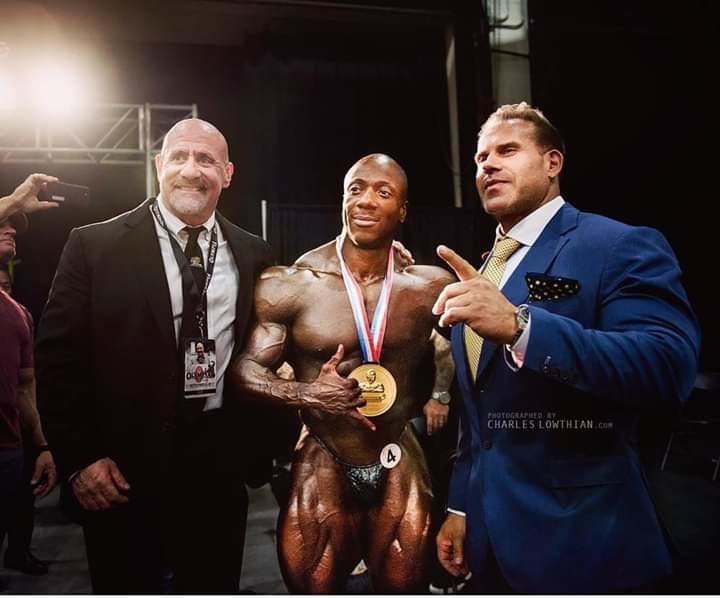 The first Olympia contest became the beginning of a new era in Shawn's life. The sportsman first entered the competition in 2011. He took the 11th place among 12 bodybuilders. Yet he got something more than a noble place or money prize could give him. Rhoden said that his first Olympia contest gave him a huge impulse for further development.

With a firm decision to win and useful experience, Rhoden managed to become third in 2012. Such an impressive result brought Shawn world fame and beneficial contracts. Since that time, Rhoden concentrated on the Olympia victory. Yet numerous issues stopped him from taking the first place.

In 2017 Rhoden showed one of the worst results of his Olympia career. He took the 5th place and faced lots of criticism. The sportsman confessed that 2017 had become a breaking point in his career. He made a decision to stop competing or to win the contest.

Fortunately, the sportsman managed not only to return his excellent physique but also to take the desired Olympia trophy. Shawn became the oldest sportsman to win Mr. Olympia. At the victorious moment, he was 43.5 years old.
Rhoden placed the former champion and his old rival, Phil Heath, 4 points behind. Besides the golden trophy, Shawn won the main prize – $400,000. Later, he noted that the reward was just a pleasant bonus. His goal was to show the world that he deserved to be number one. "My dream to believe. Today my dream came true" – Shawn told the media soon after the victorious contest.
The victory was celebrated by Rhoden's family and fans. A day after the 2018 Olympia Shawn shared a collage with a rare photo taken at the beginning of his career. He wanted to show how long his way to victory was. He tried to motivate those of his followers who were only thinking to start their professional ways.

The bodybuilder expressed his appreciation to his coach. He credited his professional accomplishments and the title of Mr. Olympia to Cris Aceto. Yet the sportsman couldn't come back to approve his status next year. Crime allegations interrupted his career.
Shawn Rhoden Best Photos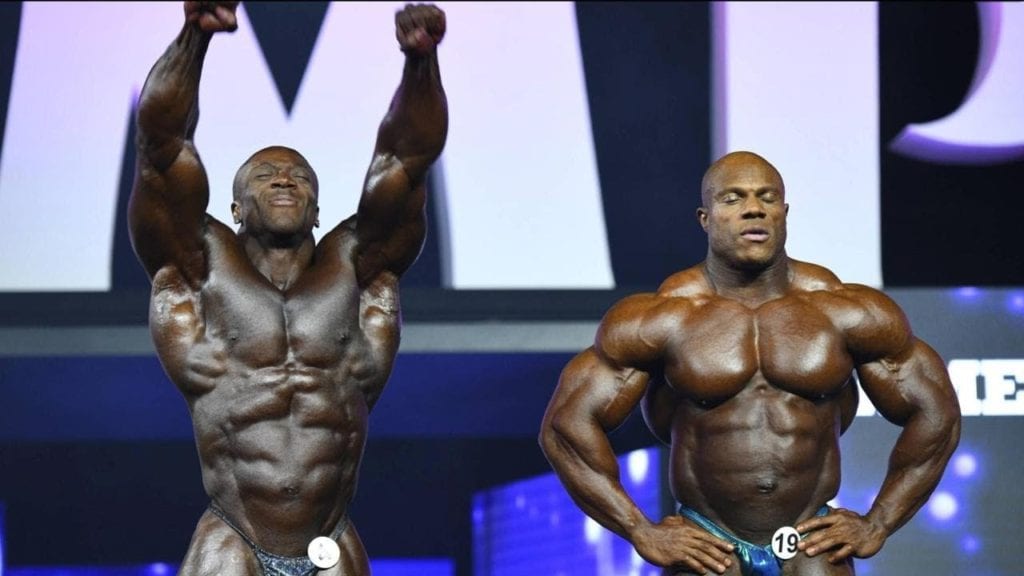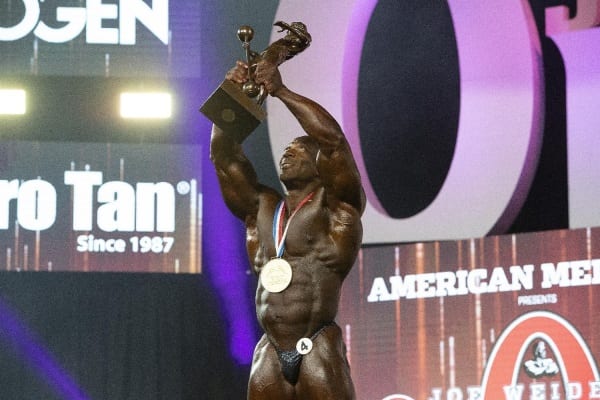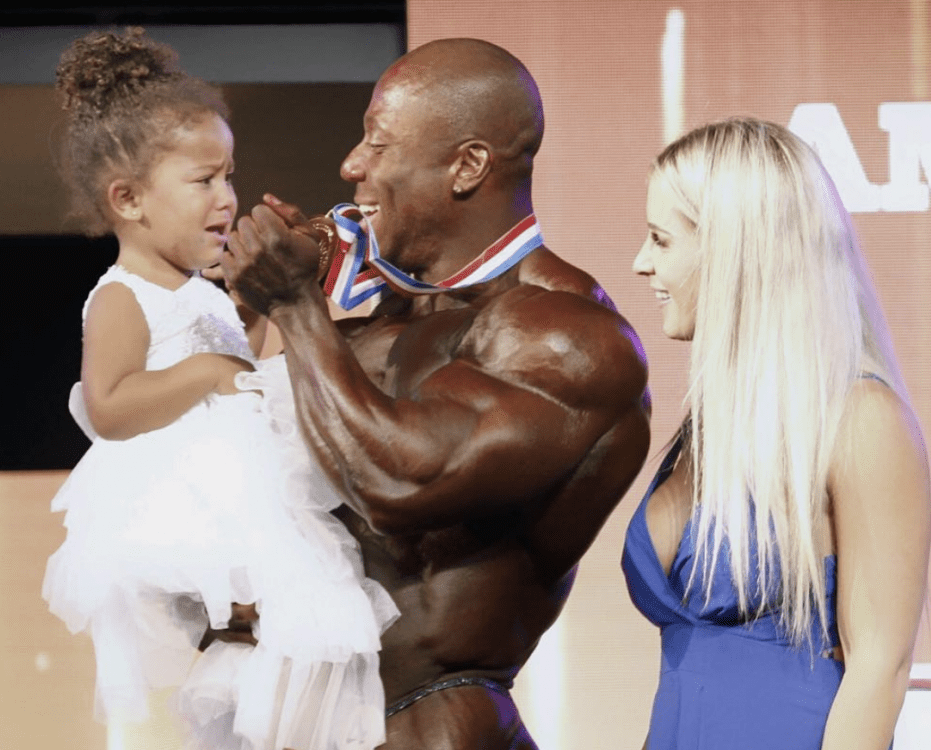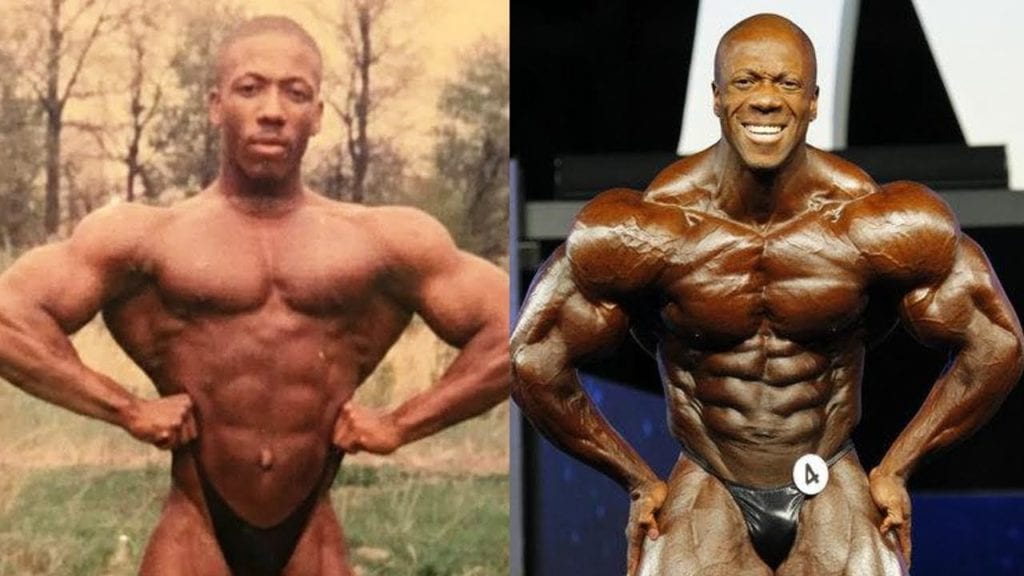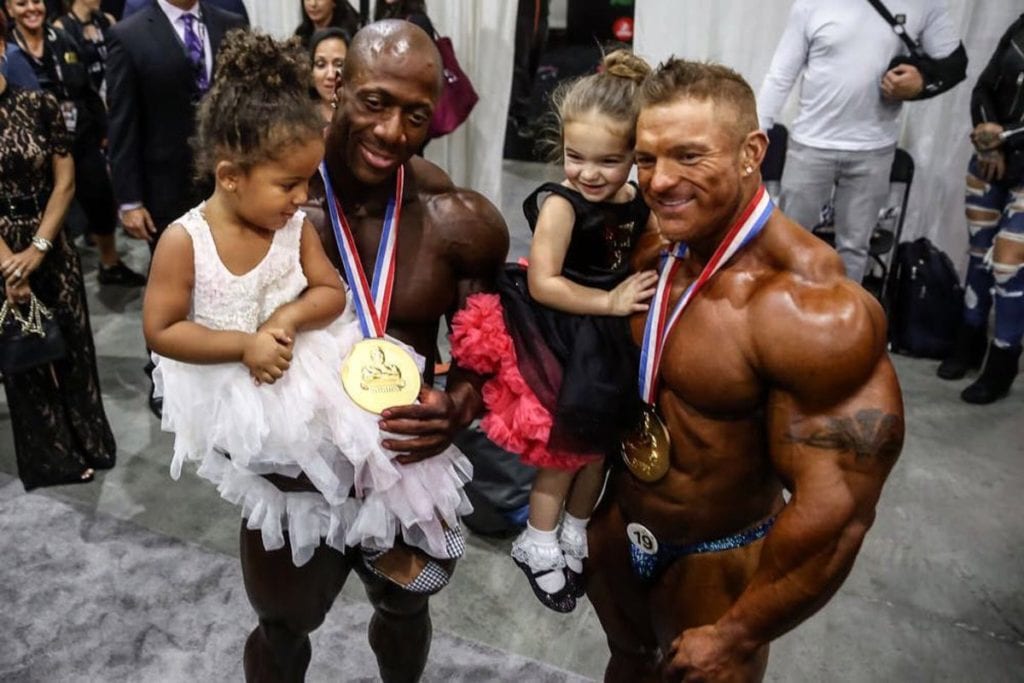 Shawn Rhoden Workout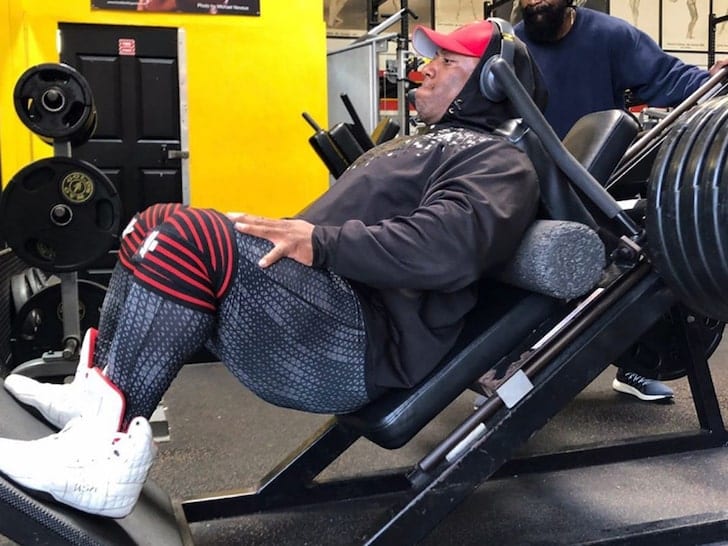 Shawn Rhoden does not keep his training secrets under the hat. He regularly shares his training routine with his followers. Shawn's workout starts with cardio. This is the perfect way to warm up and prepare for strength exercises. The famous athlete spends about 10-15 minutes on the treadmill.
The bodybuilder hatched a weekly workout plan. He pays great attention to his arms, chest, and legs. Flexatron considers his deltoid muscles the most complex body area. Here is the average plan for training Mr. Olympia has every week:
MondayFlat Bench Press 12-10-8-6 reps Incline D/B Press 12-10-8-6 reps Reverse Pushdowns 8-6 reps Overhead Rope Extensions 12-10-8-6 reps Smith Machine Squat 8-6 reps Hack Squat 12-10-8-6 repsTuesdaySquats 12-10-8-8 reps Leg Press 12-10-8-6 reps Leg Extension 8-6 reps Front Pulldown 12-10 reps Calf Raises (on the Smith Machine) 12-10-8-8 reps Dumbbell Row 12-10 repsWednesdayRestThursdayMilitary Press 12-10-8-6 reps Seated Calf Raises 12-10 reps Plate Shrugs 12-10-8-8 reps Stiff-Legged Deadlift 12-10 reps Low-Cable Row 12-10 reps Bent-Over D/B raises 12-10-8-6 repsFridayLeg Curls 12-10-8-6 reps Standing B/B curling 8,6 reps Bent Over B/B Rowing 12-10-8-6 reps Rack Deadlift 12-10 reps Wide-Grip Pull Ups 12-10-8-6 reps Seated Cable Rowing 12-10-8-6 repsSaturdaySuperset Incline D/B Press 12-10-8-6 reps Cable Crossovers 8-6 reps Bench Press (Close Grip) 12-10-8-6 reps Single-Leg Press 12-10-8-6 reps Leg Press 8-6 reps Leg Extension 12-10-8-6 repsSundayRest
Shawn Rhoden Diet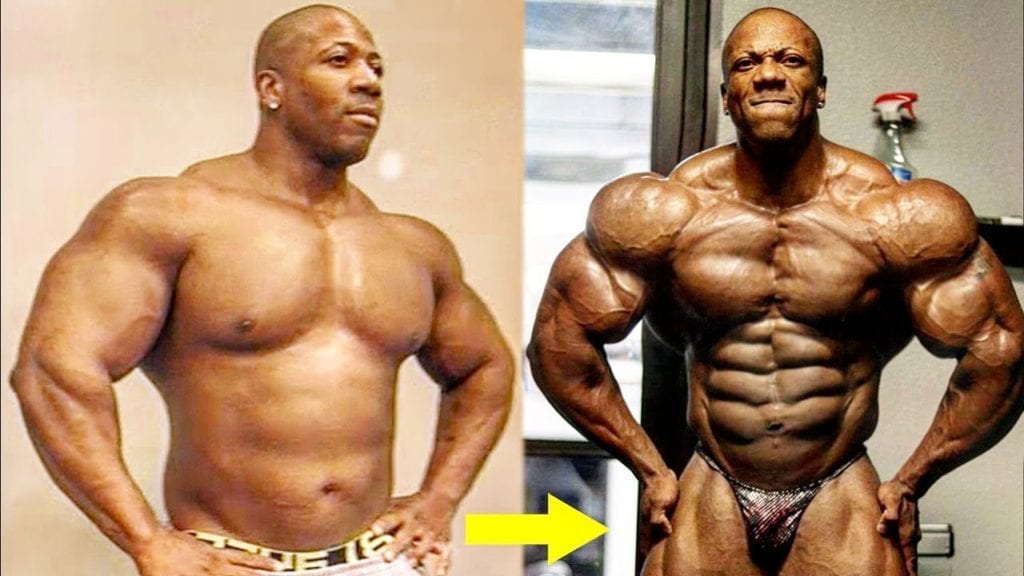 Shawn's weight transformations are always impressive. Despite keeping a diet, he quickly gains weight during off-season. That's why the sportsman tries to reduce the amount of junk food and cheat-meals even when the competing season is over. Yet he loves food.

Shawn eats 5-6 times a day. He tries to include more dishes with high-protein content and low calories. Each meal includes eggs, steak, chicken, or lean beef. "I might start off a day with a cup and a half of oatmeal, 15 egg whites, and three whole eggs" – Shawn describes his typical breakfast.

Rhoden's favorite food is steaks and pancakes. Shawn doesn't want bodybuilding to regulate his diet all year round. That's why he often looks overweight when not competing. "I tell guys during the off-season, try to keep at least one ab. If you're able to look in the mirror and see one ab, you're good. If it gets to the point where that ab becomes a muffin top, you have a problem" – Shawn explains.
Yet Shawn's diet becomes extra strict weeks before the contest. Shawn often uses fat-burners, energy boosters, and other drugs and supplements that help to reduce fat mass before the contest.
What causes bodybuilder death?

Bodybuilders may succumb to various causes, such as heart disease, liver and kidney damage from performance-enhancing drugs misuse or dehydration due to electrolyte imbalances and extreme dieting practices.

Why was Shawn Rhoden's Pro Card revoked?

Shawn Rhoden's Pro Card was not revoked, however he was disqualified from participating in the Mr. Olympia competition due to a sexual assault allegation.

Who is the oldest Mr. Olympia?

Samir Bannout is the oldest Mr. Olympia champion, having won his title in 1983 at 43 years of age.

How long do bodybuilders live?

Bodybuilders tend to live shorter lives than the general population due to factors like genetics, lifestyle habits and use of performance-enhancing drugs. A study published in British Journal of Sports Medicine revealed that elite level bodybuilders tend to have slightly shorter lives compared to the general population – an average death age around 47 years. This could be attributed to increased physical stress from intense training regimens and use of performance drugs as well as an increased risk for heart disease, liver disease and other health complications related to such practices.

How tall is Shawn Rhoden?

Shawn Rhoden stands at 5 feet 10 inches (178 cm).

Who is the youngest Mr. Olympia?

Arnold Schwarzenegger became the youngest Mr. Olympia in 1970 at 23 years of age, winning the title with confidence and skill.

Who is the best Mr. Olympia ever?

Determining the greatest Mr. Olympia winner has never been an easy feat; there have been so many incredible champions with different strengths and accomplishments over time. Some of the most famous and successful winners include Arnold Schwarzenegger, Ronnie Coleman, Lee Haney, and Phil Heath to name a few.

Who never won Mr. Olympia?

There are a few notable bodybuilders who never won Mr. Olympia despite having impressive statistics, such as Lee Labrada, Shawn Ray, Kevin Levrone and Flex Wheeler. Although these competitors were considered among the top competitors of their eras, none were able to secure the prestigious title despite numerous attempts.

Who is the oldest pro bodybuilder?

Sam Sonny Bryant Jr. is the oldest pro bodybuilder, having achieved professional status at 43 years old in 1998. Born on May 13th 1955, this remarkable man achieved great success as a bodybuilder until becoming overwhelmed with responsibility at age 43.

Who is the richest bodybuilders in the world?

The question of who is the wealthiest bodybuilder in the world is a complex one that depends on factors like career earnings, business ventures, endorsements and investments. Some of the top names frequently mentioned include Arnold Schwarzenegger, Ronnie Coleman, Jay Cutler, Dorian Yates and Rich Gaspari.