In May 2, 2012, three years after launching his training and fitness website "The Levrone Report", he finally talked about steroids to, once and for all, stop people and readers from asking him about it. Seemingly, he felt that as a bodybuilder turned training guru, he should slay the proverbial elephant in the room, or better gym – steroids.
He nailed it when he said the bodybuilding industry "avoids talking about it, but fans and bodybuilders at all levels have no problem asking about it." According to him, fans wanted to know why the pros avoid the subject of of steroids. The fans also hoped that their online personal trainer and nutrition supplement manufacturer could "step up and talk openly about it", and maybe start the ball rolling?
But Kevin Levrone was clear when he apparently slew the elephant and said, "I hate elephants, so I'm going to use this opportunity to slay the steroid elephant once and for all – as it pertains to me anyway.
"This officially represents the LIMIT I'm willing to go when it comes to talking steroids. Once you read this, PLEASE, never litter my inbox again with questions about steroids. This is as far as I go," wrote Kevin, with a desperate tone.
What he wrote next is a bit disconcerting when he compared the music industry's silence about use of illegal drugs like cocaine to bodybuilder's steroids being an illegal substance. His point was that "rock and rap musicians like their drugs. Rolling Stone magazine isn't stupid enough to pretend otherwise. They'd probably even admit that drug abuse, sadly, plays an integral roll. However, Rolling Stone is under no obligation to tell its readers how to take drugs. And neither are the rock stars or concert promoters. Aside from being dangerous and illegal information, it would be pointless."
It's good that Kevin Levrone segued that the analogy he made between rock stars and bodybuilders' use and abuse of the drugs is not close enough, because they really are two entirely different matters, at least for me. I know my limits, and the way my genes go, steroids will only wreak havoc to my system. But if I had the physical makeup of an athlete or a bodybuilder, I would definitely want to know how to take steroids with the least possible side effects so I can improve how I look. With cocaine and other illegal drugs, with its high addictive content, can I say the same?
Yes, it is a given: both industries will not thrive without hard work and dedication. So are 99% of careers, relationships, and any other pursuits in life. However, in the case of bodybuilders and athletes, the steroid component requires hard work and dedication first before anything else. Without those, steroid is nothing but a bomb waiting to detonate the hell out of its users. I believe that if steroid does not require hard work, there will be less gym goers. In a way, steroid is like a blessing in disguise. It wants its users to first master the science and craft of bodybuilding or a specific athletic sport in the case of athletes where hard work, dedication and talent all count before it can do its steroidal enhancing capabilities. This is the reason why steroids has far more potential, but education and information are amiss.
Doctors and researches, with the ban on steroids, can not properly monitor those recreational users which comprise the largest chunk of the pie, and I do hope Kevin Levrone cares enough to train and inform them well about steroid use, and not simply "toss a few bones", because truth be told, he did not slay the elephant. He simply recognized that there is in fact an elephant in the room and he is not about to share how many of them he is seeing. Or that the elephant has nothing to do with how he's going to stage a comeback this year, because there is no more in his room. He does not need it. He has eLevrophant.
What is the best way to maximize muscle growth with legal steroids?
Right now it's considered to be CrazyBulk Bulking Stack, here's why:
It is a unique product for bodybuilders. The combination of natural and safe, yet incredibly effective components increases your muscle growth up to the ultimate level. It will give you hardcore muscle mass, superior strength and rapid recovery time.
Four best-selling, powerful bulking products combined to create the optimal anabolic environment in your body for building muscle fast.
Time to pack on the poundage. Fast. Benefits include:
Improved protein synthesis
Organic and safe components;
Proven quality and effectiveness
Confirmed by thousands of bodybuilders;
No loss of gains after the end of the cycle;
No need for PCT;
Free worldwide delivery;
And absolutely NO Needles or Prescriptions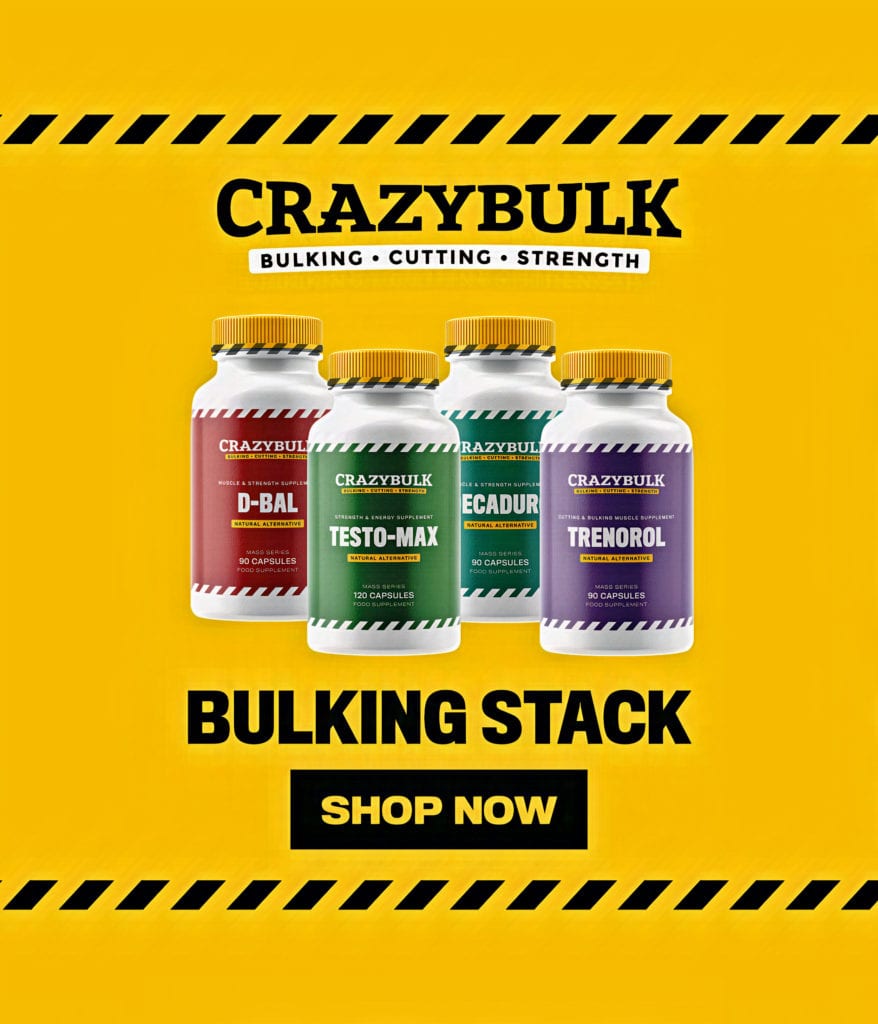 BEST FOR:
• Fast Muscle Gains
• Increasing Strength
• Reducing Muscle Soreness
• Stripping Body Fat
• Boost Free Testosterone
Get Yours at: visit Bulking Stack official website