Being great and making others even greater, – that's the way Jimmy Glenn lived. Family of the boxing legend and remarkable trainer of Muhammad Ali shared a message: J.Glenn is not with us anymore.

Jimmy Glenn could celebrate his 90th birthday this year. His friends and family members told that he had never wasted his time – these almost 90 years became an incredible example of how much a person can do for a lifetime.

Starting as an absolute amateur, Glenn reached impressive results in boxing. He was remembered for a spectacular fight with a soon-to-be champion Floyd Patterson and remarkable 14-2 record. No doubt, the passionate fighter could make a great career as a boxer, however, Glenn saw his future differently.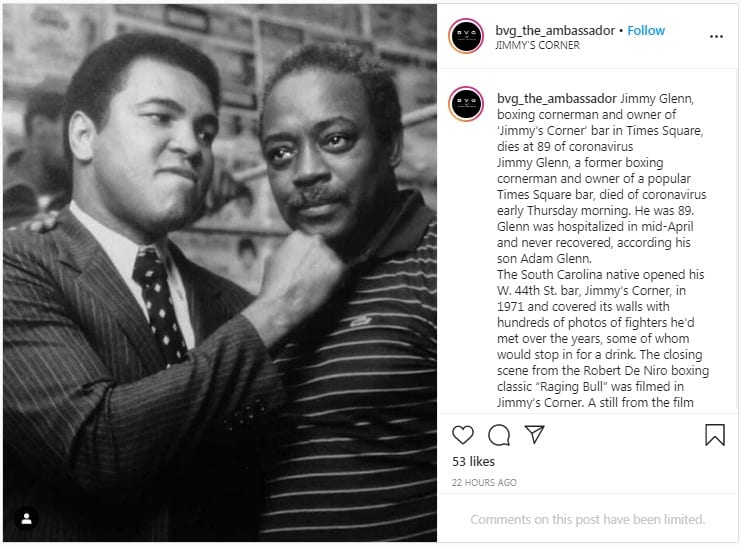 Jimmy set his legendary Times Square Boxing Gym that became 'a place like home' for many great champions, including Muhammad Ali and Monte Barret. A loving father grew up his own seven kids; however, there were even more people ready to call him 'father'.

'Jimmy and I spent a lot of personal one on one time and I looked to him as my father.' – Monte Barret wrote on his Instagram, being among first who reacted to the grief news about Glenn's death. 'He was the best loving human being I've ever known and was loved by every single person that he knew.' – the boxer added.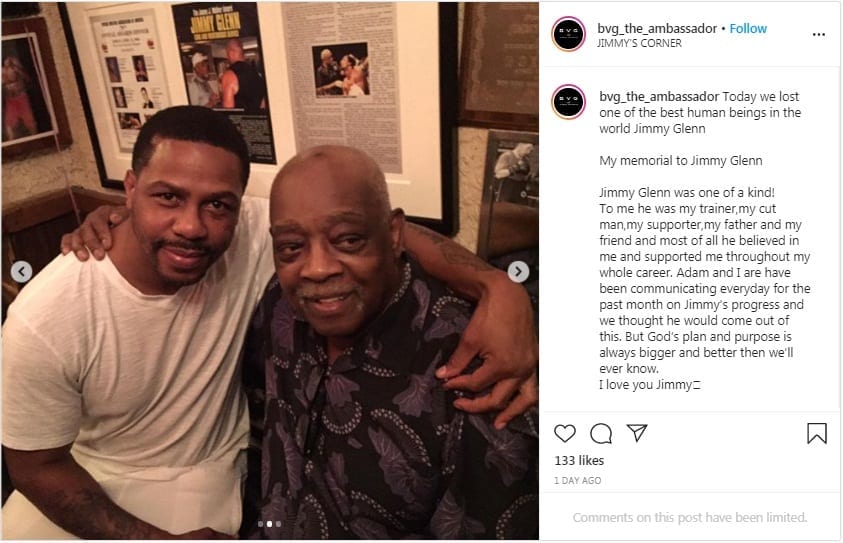 Jimmy Glenn was hospitalized in the middle of April after he was diagnosed with Covid-19. Despite the attempts that were taken to save his life, Jimmy passed away on the 7th of May at 5.30. One of Jimmy's sons Adam stayed with him in hospital at the moment of death.

Thousands of Jimmy's fans, friends, and colleagues are sad and shocked by the news. Rest in peace, Legend! We extend our heartfelt condolences to the family of Jimmy Glenn.