Whitney Jones became Ms. Fitness Olympia for the 2nd time.  No one was disappointed by the first day of the 2019 Olympia. In the Fitness division, Whitney Jones finished first in 2018. She became the champion for the second time this year. And we can truly say Whitney deserved her victory despite the tough competition. But her symmetry and complete package were more than enough to bring her the title.
The results are as follows:
Whitney Jones, $50,000
Missy Truscott, $20,000
Ryall Graber, $12,000 
Jaclyn Baker, $7,000
Tiffany Chandler, $6,000 
 Let's also recall past winner of Fitness Olympia:
2018 Whitney Jones
2017 Oksana Grishina
2016 Oksana Grishina
2015 Oksana Grishina
2014 Oksana Grishina
2013 Adela Garcia
2012 Adela Garcia
2011 Adela Garcia
2010 Adela Garcia
2009 Adela Garcia
2008 Jen Hendershott
2007 Adela Garcia
2006 Adela Garcia
2005 Jen Hendershott
2004 Adela Garcia-Friedmansky
2003 Susan Curry
2002 Susan Curry
2001 Susan Curry
2000 Susan Curry
1999 Mary Yockey
1998 Monica Brant
1997 Carol Semple-Marzetta
1996 Saryn Muldrow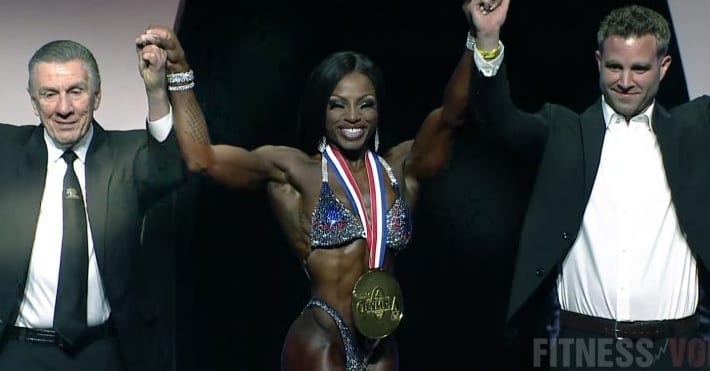 Cydney Gillon became the Figure Olympia winner again!  We have seen lots of champions over the years in the Figure Olympia division. But Cydney Gillon from Atlanta, Georgia, is the one who managed to gain her victory for the third time in a row. However, some other elite athletes stepped on the toes of Cydney. Latorya Watts, the former Figure champion in 2015-2017 was one of this year's favorites.
Thus, Cydney Gillon, the two-time and reigning Figure Olympia Champion, was accompanied by former two-time Figure Olympia chap Latorya Watts in the final call out. Gillon's shape appeared to be much better to gain another Olympia title!
However, Watts looked really impressive and tool her deserved 2nd award.
Here are the results:
Cydney Gillon, $50,000
Latorya Watts, $20,000 
Nadia Wyatt, $12,000 
Jessica Reyes Padilla, $7000
Carly Starling-Horrell, $ 6000
 And past Figure Olympia winners are as follows:
2018 Cydney Gillon
2017 Cydney Gillon
2016 Latorya Watts
2015 Latorya Watts
2014 Nicole Wilkins
2013 Nicole Wilkins
2012 Erin Stern
2011 Nicole Wilkins
2010 Erin Stern
2009 Nicole Wilkins-Lee
2008 Jennifer Gates
2007 Jenny Lynn
2006 Jenny Lynn
2005 Davana Medina
2004 Davana Medina
2003 Davana Medina